With vaccinations picking up and COVID-19 cases reaching their lowest point since last September, surely we'll all be back to normal when it comes time for 2022 sales kickoff (SKO) events, right? Not so fast. According to a recent survey conducted by MarTech, 92% of marketers said organizers should keep offering virtual events even when in-person events return. There's no denying that the pandemic shed light to a new concept of hosting traditional events virtually, but many did not think this would be a part of a long-term event strategy until recently.
For years, the annual SKO has served as the primary company event that brings the entire sales team together to exchange best practices, product updates, new sales strategies – and most importantly, they are critical for organizations when it comes to starting the new year off right. While last year you were forced to scramble and find a virtual event platform that could quickly fill the need, next year will be different because you'll no longer be a virtual event production newbie. The pressure is on. Not only do you need to find the right platform, you're also responsible for the end-to-end execution of a seamlessly produced event.
Now that we know virtual events will be a more permanent part of your event marketing strategy, now is time to start exploring new forms of event marketing tactics for your next SKO event. To get you started down the right path, we've pulled together a few virtual event ideas to consider as you begin mapping out your 2022 event strategy.
Find a Compelling Keynote Speaker
One benefit of going virtual is the ability to be flexible when it comes to keynote presenters. Since you won't have to carve out a big portion of your event budget to accommodate for their travel and hotel expenses, you can allocate more towards securing someone who may have been a bit tougher to pin down for a traditional in-person gathering. For example, Conga, a global leader in commercial operations transformation, just announced that their headline keynote speaker for their Conga Connect event is professional athlete and businesswoman, Serena Williams (which they are proudly touting across their social channels!)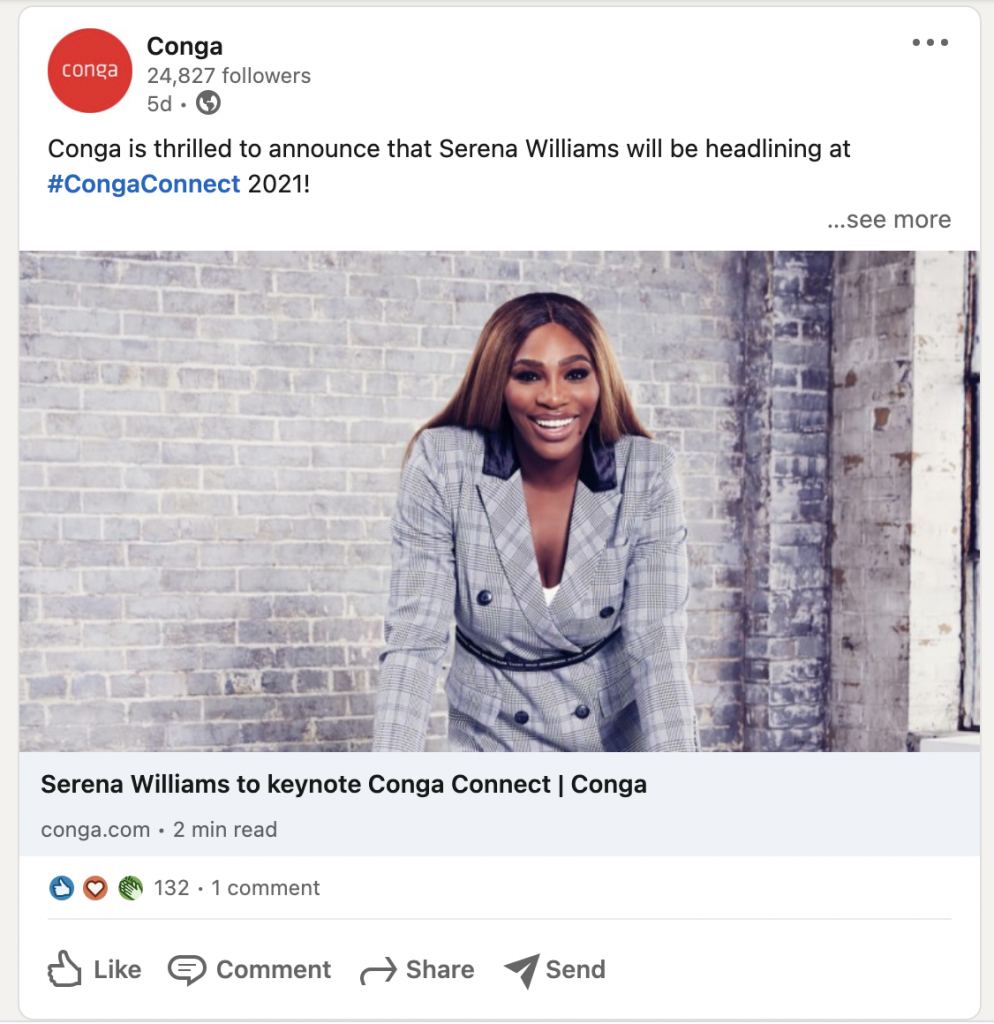 Chances that THE Serena Williams would have carved out two days from her extremely busy schedule to attend this event in person are slim. But give her the ability to tune in digitally? Sure, that's more feasible. Think about all the fun things you can do to generate excitement around an event with a widely recognizable figure? Your sales team will think you're an event-planning rockstar (and who doesn't want sales to be happy, right?)
Offer a Mix of Livestream and On-Demand Content
Flexibility is key when it comes to pulling off a successful virtual event. Rather than force attendees to sit in on live session after live session, offer a mix of live and on-demand sessions that attendees can listen to on their own time. Recorded sessions also provide an opportunity for continued learning well past the event, allowing attendees to revisit content as needed.
Leverage Pre-Recorded Sessions
When it comes to the world of online events, there's a lot of room for technical error. To save yourself from many sleepless nights, look for opportunities to pre-record session content when possible so when it's go-time, all you have to do is hit play. We've even asked speakers to wear the same outfit they wore during the recording session for a live Q&A. Attendees didn't even know the difference!
Hire an Experienced Virtual Event Production Company
The chances that you have a skilled production agency in house are slim. Perhaps you didn't even think you needed an event production agency to pull off a virtual event? Take it from leading event management software provider Cvent, who states adding a virtual production company "can add endless value to your virtual conference, whether it's making session content crisper or making videos and ads to intersperse throughout the content." Their words, not ours!
Choose the Right Virtual Event Platform
For SKOs that consist of 50 people or less, you might be able to get by with Zoom or Microsoft Teams. Anything larger than that, you'll want to find a platform that will push you to recreate the vibe of your in-person SKO event, offering a dynamically creative experience for both attendees and presenters. We're able to integrate with several of the larger virtual event platforms, like Bizzabo and On24, and can even build your own custom virtual event platform to meet your unique needs and expectations. When it comes to virtual platform design, be sure it offers flexibility for you to flex your creative muscle.
Prep Speakers in Advance
Presenting on video is much different than presenting on stage at a live event, not to mention much more technically involved. If you don't properly coach your speakers, you'll undoubtedly lose the precious attention of your attendees (and trust us, SKO is not the event to leave your sales reps' minds wandering). Speaker training is a big-time commitment. It includes support in areas like tech checks, formatting slides, pre-recording sessions, audience engagement, and panel moderation. To be done right, it also requires both technology preparation and professional setup.
Feeling a bit better now that you have an idea of where to invest your time before your next SKO? The good news is there's still plenty of time to plan. And with these virtual event ideas and the right event production agency in place, we're confident your 2022 SKO will be the best one yet. Ready to start your SKO event planning discussion? Let's chat.